Studia is a new community of Jerusalem artists from the various plastic art fields and from the entire spectrum of Jerusalem society that work together and separately in the different neighborhoods of the city.Studia's artists open their pavilion for short stays, for individuals and small groups, during which the artists present their art in order to expose themselves and expand their clientele. The artists live and create in the various neighborhoods of the city - from Mea She'arim, through Sanz, Ein Kerem and Beit Hakerem to Um Tuba and Tzur Baher. The hospitality in the artists' homes is for individuals or groups wishing to stay in a Jerusalem home for a short stay of local art. On your reservation at "Studia" you can choose between meeting with the artist about a cup of coffee for purchase or acquaintance or experiencing a workshop for yourself in the art of the artist.
The Women's Hostess Community operates as a "girls' program" of women and stories in Jerusalem "that offers a unique tourist experience that combines authentic home hospitality with Jerusalem women. "Women and Stories in Jerusalem" was born out of understanding the needs of the tourism industry and in combination with the desire to generate sources of income for the city's women.
Details about women and stories in Jerusalem at http://www.women-jerusalem.comAnd on the Facebook page "Women and Stories in Jerusalem" "Studia" is an initiative led by the Jerusalem Municipality - the Department for the Advancement of Women and the Department of Art, under the professional supervision of Yael Korlander. For more information, call 02-6298154 or email nashim.jerusalem@gmail.com
​
Liora is a multidisciplinary artist born in Jerusalem who lives in Givat HaMivtar in Northeastern Jerusalem. Leora paints on silk and her work is characterized by its colorfulness and Jewish Inspiration. Specializes in original photography of views related to the essence of the land of Israel. A photographer and editor of
Documentary corporate videos.
Hebrew and English 0587899377
​
Wide ranging artist in many facets
Chana was born in Tiberias and grew up on the shores of the Kinneret
Under the looming mountains of the Golan
This pristine beauty had a strong influence on her and is recognized in all her works
Ever since then she's never laid down her brush
Today Chana lives in Jerusalem, the source of light in the world, which illuminates her life and
Inspires her artistic productions
You are invited to come to view and enjoy her creations, and to participate in her exciting, artistic workshops
Contact: 052-7699412
​
Shanina is a multidisciplinary religious artist, who creates art in her home inspired by nature and the green environments of the Jerusalem Forest in the Gilo neighborhood, overseeing the city and massive landscapes 860 meters high. Her artworks express her yearning for a union between materiality and spirituality. Her work often reflects the Bible, and the land of Israel. Shanina hosts workshops combining natural health with harmony, along with optional meals, in collaboration with her husband.
Kosher.
Hebrew, Spanish and English. Shanina.art@gmail.com 0507812031
​
Rachely is a multidisciplinary artist living in Ein Karem in a house which is part ancient and the other part she built under her title of interior architect and construction contractor, abilities she acquired after studying drawing in Betzalel. Rachely paints and sculpts three dimensional paintings, creates artistic mirrors, stained glass and stone surfaces in her customers' homes, especially in Jerusalem. 0522315855​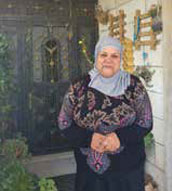 Sabah was born in the old city of Jerusalem and lives in Sur Bahr. In addition to her activities in the community rec center to empower women, she does traditional embroidery. Among her works you can find pictures from the village life as well as practical creations. Arabic and Hebrew
0524265667
Haya resides in Ein Karem in a renovated stone house,
dedicating her full time to watercolor painting.
She paints portraits, still life and the scenery of Ein Karem and Jerusalem.Hebrew and English
0548030793
​
A Jerusalem-born artist,
From a family of respected Kabalists, who are recognized for their work by
The Jerusalem municipality, and its ancestry can be traced back to Avidan Ben Gideoni, the ruler of the Binyamin Tribe.
From this family she has inherited her love for man and for the arts. Most of her crafts are influenced by her being from Jerusalem.
Draws characters and sceneries having to do with Jerusalem. 0547251720
​
Born in Mea Shearim in the old city, daughter of holocaust survivors, graduated from Satmer school, with a knack for the arts since she was young,
a painter in her free time for many years, with a special focus on
modern and impressionistic paintings.
She loves originality, variety and color, and has a yearning to document an authentic Jewish life.
gw4958@gmail.com // 052-7149143
devkravetz@gmail.com​
Reaya Tsiodin is a fantasy artist.
She was raised in Moscow, and lives and creates art in
Ramot.
A puppeteer and a painter, she creates colorful
And happy characters from the world
Of fairytales. Hebrew and Russian.
0547365333
​
Gila Elyashar Stocklisky​
Gila is a painter, sculptor, and jewelry designer. An Israeli native, originally from Kfar Sirkin, she now lives and creates from her home in Beit HaKerem. The subjects of her art are varied, and inspired by Judaism, Mythology, children's stories and the natural living world of her childhood. Her process of sculpting is done using diligent and precise handwork. When the ceramics sculpting is combined with hand drawn paintings, which gives a colorful Power to the craft. Hebrew and English 0546778888​
A fascinating encounter with Rachel Roth ("Rata") an Ultra-Orthodox woman from theTel Araza - Bucharim neighborhood. A multidisciplinary painter and artist, every corner in her house has a message and plenty of joy.See the art, experience the story behind the painting hear about Hasidi people and about Mea Shearim, where she was raised.​
Hanna lives in Talpiot and is a multidisciplinary artist with a vast experience in education.Provides workshops for adults and believes special talent isn't necessary to manage to create.
Creates paper-mache "Jewish dolls", designs objects with corrugated cardboard (through a special technique called "cardboard lace"), decorates Ketubahs, and more.
Hebrew and French
ברכי היא אמנית חרדית
שנולדה, גדלה וחיה בירושלים.
מבטאת את אהבתה לעם
ישראל וארץ ישראל, בציור
סצנות מהתנ"ך, ממעגל השנה,
ומהווי המשפחה היהודית.
משלבת בין צבעי שמן על קנווס,
לבין דיו על קלף, בתוספת
פסוקים ותפילות.
Vered is an ecological and social artist.Was born in Jerusalem, today she lives in Kiryat HaYovel. Multidisciplinary creator - Writing, painting, sculpting, video, photography, performances and dancing. Certified in Religion sciences. Writer and illustrator of the children's book "Pink Dream Shift" and the developer of a "reality dreaming" program, inspired by it. Writes personal fairytales and healing stories.Hebrew and English​
Deborah is a photographer and film creator, raised in New York, who lives
and creates in Ramat Shlomo.
Getting to know Deborah and her creations provides an opportunity to get to know unique views and different perspectives about Jerusalem and its people, through the eyes of a Chabad Hasidi artist.
Hebrew and English. 0556622099
Naomi is a multidisciplinary Jerusalem artist. I started painting after my daughter Sharon, who was also an artist, was killed in a suicide attack in Jerusalem. My art is a dialog between me and the life around me.
I invite you to go back in time to my childhood. See the vibrant colors of my Jerusalem neighborhood reflected in my paintings.
Hebrew and English. 0528460778
An Ultra-Orthodox painter. A multidisciplinary Judaica artist: Oil paintings, stone works and parchment works. Fifth generation living in Jerusalem. Makes art in her home in Kiryat Tzanz, makes paintings full of stories and color, through which you can sense the magical Jerusalem, get emotional from the honorable people within it and get a peek at its rich Jewish atmosphere. 0527645732​
Chulood was born, raised and today lives and makes art in Sur Bahr, such as traditional embroidery which has passed in her family for generations.Does mostly useful embroidery for decoration and authentic costumes.Arabic and English​
Sarah Avdiel, an artist for over 30 years, creates art in her studio in the neighborhood of Ramot. Judaica paintings inspired by the book of Psalms and handmade original jewelry, with a unique colorfulness
From Swarovski, precious stones, etc.
Hebrew and English. 0542323370
An Ultra-Orthodox artist, living in Bait VaGan, a portrait and character painter of people from Jerusalem, invites you to take a peek into the Ultra-Orthodox clothes closet: the Shtreimel and the hats, the fabrics and the frocks, the colors and the threads, According to communities and groups. Everything you wanted to know, down to the smallest detail. The explanations are accompanied by a slideshow, authentic photographs, documentary videos and a variety of demonstrations.
Hebrew and English. 0548433572
​
Born in Jerusalem, a multidisciplinary artist, grew up in Nachlaot and every Saturday she used to go to the Jerusalem Artists' House, to see art exhibitions, where she absorbed her love for art. Always loved to rip apart pieces of paper and photographs and realized that the part is worth as much as the whole, thus creating collage jewelry. Lives in Armon HaNatziv, deals in collages, drawing, painting and more.
0524687327
​
Ultra-Orthodox painter and musician, lives in the Neve Yaakov neighborhood in Jerusalem, in a pastoral inspiring alleyway, in front of the Moav mountains view, which can be seen from her house.
Draws on everything. Canvas, wood, Jerusalem Stone, and even on... Faces!
Hebrew and English. 0527155861
​